Life & Language – A podcast about life and why language matters.
Language is not just words. Every time we speak, write, think, we express our views of the world. We label what see, we put our experiences in words, and we do things with language. Importantly, language use is storytelling! Stories about ourselves, about society, about the environment.
In this podcast, I talk to brilliant people who know a thing or two about storytelling. Across the various shows some of the themes that I am interested in are the climate crisis, gender equality, and developments in higher education.
Life & Language is now in its third season. Here you can find previous episodes. I'd love to hear what you make of the shows! So do drop me line or leave a comment.
You can listen to Life & Language on all major podcast platforms.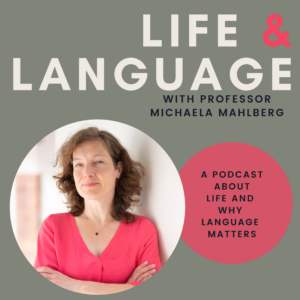 Episodes from season 3
How do you become a successful children's author? I invited the brilliant Hannah Gold so I could learn her secret. … Hannah Gold – Writing Bear